Description
Kalki MCT is an isolated CBD product that is paired with MCT (medium-chain triglycerides). MCT has its own health-promoting properties including vitamins, minerals, and healthy fats. By combining MCT with CBD and adding hemp plant terpenes back in, this is a powerful combination that will strengthen and soothe.
[view lab report in new window]
This product is designed to be used under the tongue. Do not use in a vaporizer.
Hemplucid has created a line of THC-FREE Hemp CBD products. Kalki is a sport approved THC-FREE HEMP CBD product. Not only is Kalki THC-FREE, but Hemplucid has added high-quality hemp terpenes back in. We have done this to stay true to the whole plant. When other companies extract cannabidiol (CBD) they strip out all other benefits that come from rich terpenes and other cannabinoids. Hemplucid understands the synergistic qualities of the hemp plant, and that is why we add the terpenes back in. It's important to us that Kalki meets the Hemplucid high standard that you are used to and is completely FREE of THC.
HEALTH-CONSCIOUS CUSTOMERS KNOW MCT:
---
has complementary benefits to CBD

has therapeutic effects

is fast-acting

is a natural source of energy

has long-lasting effects

is quickly absorbed and utilized by the brain and body

is stored as a fuel rather than a fat
HEALTH BENEFITS OF MCT
---
metabolic health

energy

a satiated appetite

cognitive clarity

digestive health

hormone balance

immune system vitality

absorption of fat-soluble nutrients
The effects of Kalki's CBD delivered in MCT  are long-lasting, and the health benefits of this sublingual oil will resonate with consumers throughout the day. When the holistic effects of MCT are combined with the therapeutic benefits of CBD, users experience the full range of health benefits that this Kalki product has to offer.
DURATION OF EFFECTS AND BIOAVAILABILITY
---
Because MCT oil has to be processed through your liver before it reaches the bloodstream, it takes longer to kick in than other methods of ingestion. Yet once it enters your bloodstream, the cannabinoids carried through MCT oil remain active and effective for hours throughout the day.
CBD AND MCT: THE PERFECT PARTNERS
---
Compared to other carrier oils, MCT and the CBD it carries are more easily absorbed by the body. This is because whole-plant CBD is fat-soluble, dissolves into fatty medium-chain triglycerides, and synchronizes with your system as soon as it passes through the digestive tract. These essential fatty acids are quickly processed in the body while you receive the full benefit and bioavailability of CBD and the additional health benefits from the MCT itself.
SUGGESTED USE
---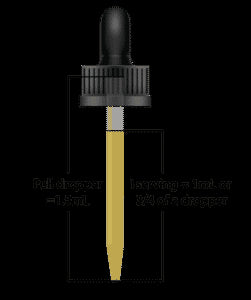 HOW MUCH IS A SERVING?
A serving is 1ml or approximately 2/3 of a dropper. 
HOW DOES IT TASTE?
This natural, health-promoting product has a mild hemp flavor.
HOW TO USE?
MCT Oil may be used under the tongue or added to cold foods like salads, soups, smoothies, or other recipes. Kalki's MCT tincture is extremely effective if ingested sublingually. Place 1ml or your preferred serving under the tongue, holding it for thirty seconds before swallowing. CBD begins absorbing into the mucous membranes in your mouth and breaks down through your liver, entering the bloodstream quickly and effectively.

Our THC-free CBD products are tested at several intervals of the manufacturing process to ensure they are completely free of THC. In exceedingly rare cases, it may be possible to trigger a false positive on a urinalysis due to the presence of metabolites created by CBD. This is true of any quality hemp extract because of the inconsistent nature of drug screenings.
THIS PRODUCT IS NOT FOR USE BY OR SALE TO PERSONS UNDER THE AGE OF 18. THIS PRODUCT SHOULD BE USED ONLY AS DIRECTED ON THE LABEL. IT SHOULD NOT BE USED IF YOU ARE PREGNANT OR NURSING. CONSULT WITH A PHYSICIAN BEFORE USE IF YOU HAVE A SERIOUS MEDICAL CONDITION OR USE PRESCRIPTION MEDICATIONS. A DOCTOR'S ADVICE SHOULD BE SOUGHT BEFORE USING THIS AND ANY SUPPLEMENTAL DIETARY PRODUCT. ALL TRADEMARKS AND COPYRIGHTS ARE PROPERTY OF THEIR RESPECTIVE OWNERS AND ARE NOT AFFILIATED WITH NOR DO THEY ENDORSE THIS PRODUCT. THESE STATEMENTS HAVE NOT BEEN EVALUATED BY THE FDA. THIS PRODUCT IS NOT INTENDED TO DIAGNOSE, TREAT, CURE OR PREVENT ANY DISEASE. BY USING THIS SITE YOU AGREE TO FOLLOW THE PRIVACY POLICY AND ALL TERMS & CONDITIONS PRINTED ON THIS SITE. VOID WHERE PROHIBITED BY LAW.
Payment & Security
Your payment information is processed securely. We do not store credit card details nor have access to your credit card information.